The fact we spend a third of our lives sleeping or attempting to do so, it is not surprising that our mattresses play such a big role in the health of our spine and back. Sadly, many people sleep on the wrong mattress. This means that they are more likely to suffer from pains and aches at night thereby waking up feeling tired and uncomfortable in the morning. If this becomes a trend, it could seriously affect your health and general quality of life.
Waking up with cramps and back pain in the morning is very common. Complaints of feeling stiffness, lower/upper back pain, and musculoskeletal discomfort in the back are avoidable with high quality and supportive orthopedic mattress.
What Is Orthopedic Mattress?
An orthopedic mattress refers to a firm mattress that is designed to support joints, bones, and muscles. These mattresses are ideal for people that suffer from arthritis, osteoporosis, back pain, and other similar conditions.
Orthopedic Mattress Benefits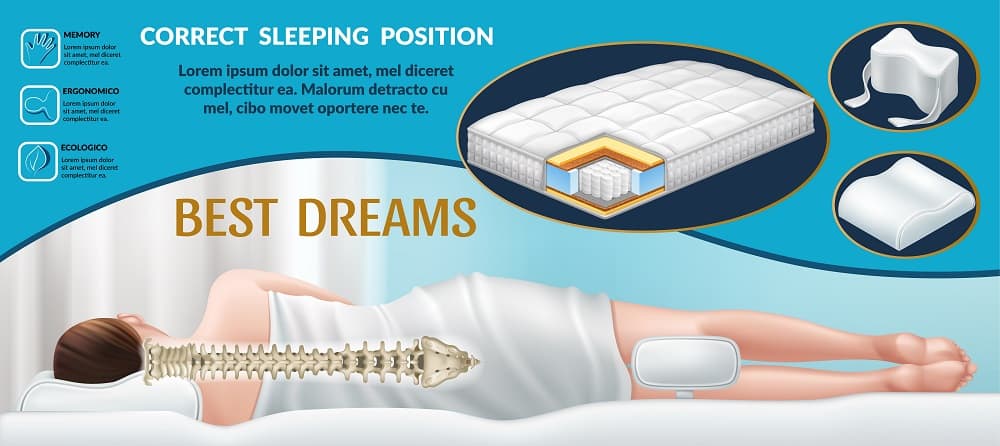 The following are just some of the benefits you stand to enjoy by buying the best orthopedic mattress:
Improved posture
One of the great benefits of an orthopedic mattress is the fact that it prevents your body from curling and sinking when you are asleep. There is more to this mattress than just keeping your spine straight and alleviating backache. It also helps you stand erect with an improved posture. Their sturdiness promotes spine alignment hence doing away with the dreaded sinking feeling when you retire to bed after a tiresome day. For better results, settle for an orthopedic mattress that features high-density foam as they provide more pressure relief.
Increased support
As aforementioned, orthopedic mattresses excellently conform to your body's contours hence providing optimal support to all your pressure points. This goes miles in reducing the potential of accumulation of pain.
Great for couples
In addition to alleviating body pain and inducing sleep, an orthopedic mattress is a great choice for couples. This is especially true if you guys are always arguing about who turns and tosses more than the other while sleeping. Many couples often feel like their partner occupies 3-4 portions of their king-size bed hence making the other feel uncomfortable and/or disrupting sleep. If constantly rolling over is a common phenomenon on your bed, then you guys need to consider buying an orthopedic mattress.
More: Best Mattress for Couples
Economical
While these mattresses are costlier initially compared to others, in the long run, you will notice that their durability extends many years after purchase. For sure, they remain in excellent condition for far longer than others do.
10 Best Orthopedic Mattress 2020
1. Classic Brands Pillow-Top Mattress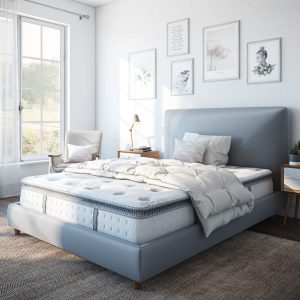 Classic Brands is among the top mattress manufacturers. This orthopedic mattress features an innerspring core sandwiched between gel-infused memory foam. This way, the mattress offers the support and bounce associated with innerspring while allowing you the adaptability and breathability of gel memory foam. The floral mattress cover looks so great that you might not want to cover it with sheets.
The mattress features a pillow top cover that makes it extra plush and comfortable. This pillow top is embroidered to look great. Its knit sides enhance breathability. To enhance breathability, even more, there are air spaces in the innerspring core that allow maximum airflow for a cool and comfortable night all seasons. Like other hybrid beds, this mattress restricts motion transfer to offer uninterrupted sleep to couples. Your partner's movements will not disturb you at night.
Pros
Plush pillow-top makes the bed comfortable
Sports a stylish finish with a breathable cover
Relieves pressure points to keep you comfortable
Generous 10-year warranty
Cons
2. Snuggle-Pedic Mattress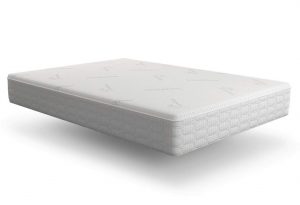 This mattress is designed to sleep cool. Snuggle-Pedic uses its proprietary Airflow Transfer System to enhance the breathability of every mattress they create. Due to the excellent breathability of the mattress, Snuggle-Pedic has christened it 'a mattress that breathes.' The mattress features a form of flexible foam that molds to your body when you are sleeping to relieve pressure points and relieve aching joints.
The patented airflow transfer system used on the mattress combines air channels within the mattress body with very small ventilation holes. This way, much body heat escapes ensuring you do not become hot at night. Even better, the breathability ensures the mattress lasts for long since sweat will make a foam mattress break down.
Each mattress is wrapped in a removable and washable bamboo cover. The cover is not only soft and cozy but also has ventilation holes for maximum airflow. On purchase of this mattress, you are offered extra foam layers so you can adjust the firmness of the mattress if you do not like what you get. This way, instead of returning the mattress of you do not like its feel, you can just customize it to meet your needs.
Pros
Highly breathable to keep you cool
Adjustable firmness to meet your sleeping needs
Soft, cozy and washable cover
Pressure relief
Cons
Price point might be too high for some budgets
3. Sunrising Bedding 8-Inch Natural Latex Mattress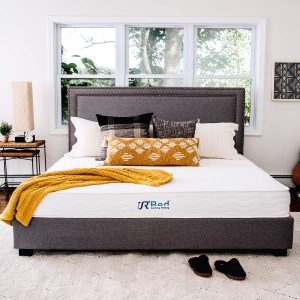 If you need a latex foam orthopedic mattress, Sunrising Bedding mattress might be a good choice. Latex generally offers more support and hypoallergenic which makes it ideal for many people. This mattress, however, is not made of latex alone but also features an innerspring core. You will, therefore, get the support and bounce of an innerspring core and the pressure-relieving benefits of latex. The mattress will fit most bed frames, except adjustable frames. As such, you do not need a new frame.
The innerspring core and the latex foam layers are highly breathable to keep you cool all night for all seasons. The coils on the mattress are individually pocketed to minimize motion transfer and keep you comfortable when you are sleeping with your partner. If you have allergies, this mattress might be right for you. It is made Talalay Thai Latex, which is 100 percent natural. This material is eco-friendly and non-toxic. It is resistant to dust mites and mold.
Pros
100 percent natural latex which is non-toxic and eco-friendly
Great motion isolation
Resists dust mites and mold
Supports the back to relieve pain
Cons
Takes up to 48 hours to decompress
4. Classic Brands Synergy Hybrid 9-Inch Pillow-Top Mattress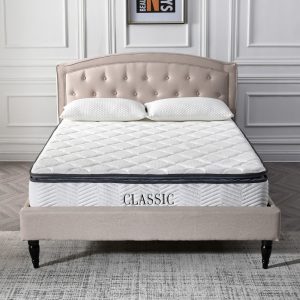 The Synergy Hybrid mattress from Classic Brands was designed to offer pain relief. It costs less than you would expect for an orthopedic mattress. Inside, it has a bouncy and supportive innerspring core, which is sandwiched between adaptive memory foam layers. This way, you get a perfect balance between comfort and support.
At the top of the mattress is a plush pillow-top layer that gives the bed a snug and cozy feel. This pillow top is beautifully quilted that you may not want to cover it with bed sheets. At the edges, the mattress is corded to ensure it offers enough edge support. This way, you can sleep or sit on the edge of the mattress without damaging it with time. The mattress is, therefore, a great option for couples.
The coils in the innerspring core are independently encased to ensure they minimize motion transfer. You will not feel your partner's movements while you sleep at night. This also enhances the support that the mattress gives your back.
Pros
Luxurious pillow-top makes the bed comfortable
Great edge support makes the bed ideal for couples
Great motion isolation
Supportive layers to relieve back pain
Cons
Slight off-gassing the first few days of use
5. Continental Sleep 10-Inch Pillow Top Orthopedic Mattress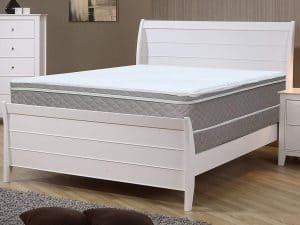 Looking for a fully assembled orthopedic bed? This bed from Continental Sleep comes with a box spring base so all you do is start using it. With the purchase of this mattress, you get a ready-to-use bed.
The mattress has a horde of features that make it great at relieving back pain. For starters, it sports a plush pillow top. The pillow-top is beautifully quilted to a point you would not want to place sheets on it. With the pillow top on, the bed molds to the shape of your body to offer you enough support and comfort.
You are guaranteed enough support from this mattress thanks to the innerspring core with individually pocketed coils. The coils minimize motion transfer for uninterrupted sleep even when your partner tosses and turns at night. To relieve pain and pressure, the individual encasing of coils facilitates even distribution of your weight. There is maximum airflow within the innerspring core allowing the mattress to dissipate heat.
Pros
Pillow top finish makes this bed comfortable
Comes fully assembled with a box spring
Breathable for a cool night
Attractive fabric cover
Cons
The box spring raises the price of the mattress
6. Continental Sleep Elegant Collection Orthopedic Mattress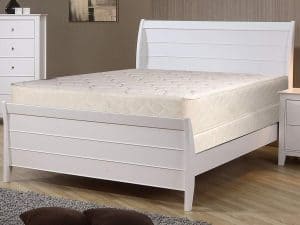 The Elegant Collection is another offering from Continental Sleep. Like the previous option, this mattress comes fully assembled with a box spring. However, unlike the previous option where you pay for the mattress and the box spring, here you pay for the mattress only.
So, if you need a new bed frame without incurring the cost, this mattress might give you a good deal. The mattress is designed to keep your weight well spread out at night using its independently encased innersprings. This way, the mattress supports your whole spine to relieve back pain. The mattress is an ideal choice if you supper nighttime back pain.
Inside the innerspring core are 357 coils. While these coils offer great support for your back and spine, they also contour to your body shape. This form of adaptability makes the mattress comfortable even though it is firm. Contouring ensures the mattress keeps off any pressure from your joints. When you sleep, the mattress not only relieves back pain but also reduces joint pain as well. Being USA-made, the mattress meets all set state and federal standards.
Pros
Offers excellent back support
Relieves pressure for sore joints
Made in the USA and meets all federal fire standards
The mattress can be flipped to increase its durability
Cons
Might feel thin for you if you are heavy
7. Spinal Solution Queen Mattress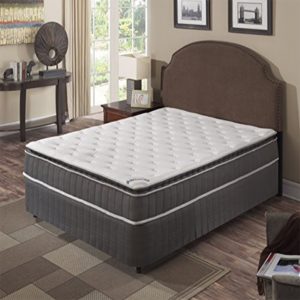 Spinal Solution lives up to their name with this and other mattresses they offer. The mattress was designed specifically for people who suffer back pains. It sports a slick and modern design that will add to the décor in your bedroom. While the mattress has a luxurious finish for comfort, it was designed with support in mind. Better yet, the mattress is available at a competitive price.
At the top, this mattress features a pillow top finish, which luxuriously molds to your body shape for comfort. Since the mattress was created to offer support, it is very firm – the pillow top prevents the mattress from feeling very hard. If you are not accustomed to the firmness of an orthopedic mattress, the pillow top will ensure you feel comfortable. Inside, the mattress has an innerspring core. The coils are individually pocketed to not only minimize motion transfer but also contour to the shape of your body.
The mattress ships compressed and rolled in a small convenient box. It takes a day to decompress.
Pros
Pillow top finish makes the mattress comfortable
Ideal for back and joint pain
Stylish design
Great price for its quality
Cons
The mattress might feel extremely firm for light sleepers
8. Spinal Solution Orthopedic Mattress with Aloe Vera Cover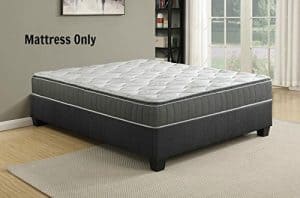 This is another great mattress option from Spinal Solution. The company understands that orthopedic mattresses might feel extremely hard and as such, they have gone to great lengths to ensure that does not happen. As such, this innerspring mattress feels as comfortable as it is supportive. The mattress looks stylish to match your bedroom décor. With its supportive and comfortable nature, the mattress relieves pressure on joints to keep your back comfortable.
The mattress is wrapped in an organic aloe vera cover made of stretch knit fabric. This cover is highly breathable. Coupled with the breathability of the innersprings, the cover ensures that you sleep cool even on very hot months. If you are having back pains, the mattress ensures that you sleep comfortably by relieving pressure points and contouring to your body shape to keep you comfortable. The mattress ensures that your neck and spine are well supported to keep you comfortable.
Pros
Fitted with breathable organic cover
Sleeps cool all night
Relieves pressure
Comfortable pillow top finish
Cons
The mattress does not bear CertiPUR-US and GreenGold certifications
9. Sleep Innovations Cool Gel Memory Foam Mattress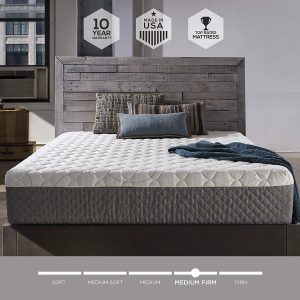 This mattress from Sleep Innovations is not at this spot because it is the least comfortable for those with back and joint pains. It sports additional thickness that gives it a luxurious feel not common with most orthopedic mattresses. However, the mattress still offers enough support for people with average or heavy bodyweight.
If a 12-inch mattress feels so thick for you, you can buy a 10 or 8 inches thick mattress. Teach mattress is designed to support your back to relieve pressure. Sleep Innovations designed this mattress with three layers, what they describe as TriComfort design. It features a high-density layer at the base, a middle layer that promotes airflow, and adaptable gel memory foam at the top.
The cooling gel memory foam at the top of this mattress maintains a neutral temperature all night long by wicking away heat while you sleep. This top also molds to the shape of your body offering you comfort. The mattress is shipped rolled and compressed for easy shipping.
Pros
Great temperature controls to keep you cool all night
Supports your back to relieve pain
Offered in a wide range of thicknesses and sizes
Cons
Slight initial off-gassing
10. Continental Sleep Innerspring Mattress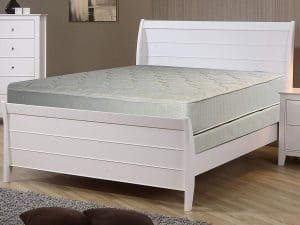 This mattress from Continental Sleep comes fully assembled with a box spring. Like the Elegant Collection mattress from Continental Sleep, it is offered at a great price. You purchase the bed frame and the mattress at the price of the mattress alone. It is designed to accommodate heavy users.
The bed features an innerspring core that offers enough support to relieve pressure points and reduce joints and back pain. Even better, the springs allow the mattress to contour to your body shape to keep you comfortable all night. This makes the mattress ideal for those with back and joints pains.
Sandwiching the innerspring core are memory foam layers that cuddle you to reduce the hardness of the mattress. The memory foam layers are breathable allowing you to sleep cool all night. If you need a bed frame, buying this mattress will give you a free bed frame.
Pros
Supportive but comfortable relieving pressure points
Adaptable
Breathable and sleeps cool all night
Cons
Relatively noisy when used with its bed frame
Memory Foam vs. Orthopedic Mattress , Which Should I Choose?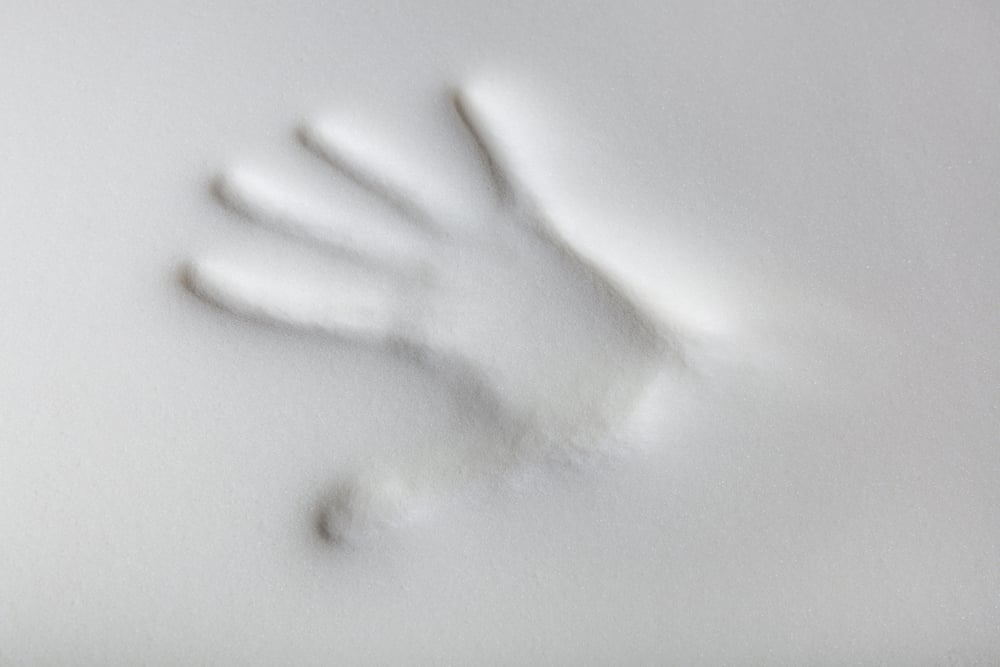 While these two mattresses have similarities when it comes to keeping your spine aligned, you must understand their differences. Both of them boast conforming properties. These two different mattress types are specially tailored for specific needs.
Memory foam mattresses are created using viscoelastic materials. They not only react excellently to body heat but also mould perfectly to your body's contours.
An orthopedic mattress, on the other hand, is designed specially to reduce stress on your joints, neck, and back. They are also excellent in terms of alleviating pains and aches.
So which of these two mattress types is better for my needs? Most people ask that million-dollar question. Here is a brief look at each of them differently:
If you're looking for a plush mattress – the best choice is memory foam
If you sleep hot and need a mattress that breathes well – the best choice is orthopedic
If you suffer from allergies and desire something hypoallergenic – memory foam
If off-gassing is bothersome to you – orthopedic
If you want a mattress that provides lots of support – orthopedic
If you are concerned with your carbon footprint and thus desire a more eco-friendly mattress – orthopedic
If you want the best bang for your buck – memory foam
Compared to memory foam, orthopedic mattresses tend to be firmer.
Final Words
We hope that we have simplified the tiresome process of searching for the best orthopedic mattress. By now, you should know how to choose the best one for your needs. Although these types of mattresses are not for everyone, the firm support they offer can be quite helpful if you are suffering from a painful condition. Our top picks were based on factors such as reasonable pricing, harmless chemical material, effective working, quality and reviews from customers.